MIO PERSONAL TRAINING IN NIJMEGEN
MIO personal training in Nijmegen aims to develop a healthy lifestyle that suits you. As our name implies, personal, tailor-made training sessions play a key part in this. Whether you'd like to lose weight, start the right diet, become mentally and physically fit or want to develop muscle mass: we are happy to help you with any of your personal fitness goals.
Using our professional guidance and your personal wishes, we map out your path to fitness together. No matter what your sports background is, how often you have or haven't set foot in a gym; everyone is welcome. As soon as we get started, we will set achievable goals at your level, so that you'll be able to reach the best results.
Would you like to work on your personal fitness goals and start working on this with professional guidance? Call or send us a message. We are happy to schedule a free intake to get to know each other, with no further obligations.
HOW DO WE WORK
We always start with a free, no-obligation introductory meeting. During this meeting we discuss your current situation and what you would like to achieve, but you'll also get the opportunity to ask us any questions you may have to see if MIO personal training suits your needs.
When you choose MIO personal training, we will start by setting up an action plan. In this personal plan we create a professional set-up for your training, food intake and recovery moments. We set achievable goals, in order for you to stay motivated to work on your goals and achieve visible results.
The training sessions are always a mix of strength and conditioning, in which learning the right techniques plays a central part. To achieve this, we will first discuss your body measurements ​​and posture and we look at how you move. This way, we get a clear picture of how we should train, without any risk of injuries. We will also provide you with tips and schedules
on physical exercise outside of the training sessions, if necessary.
During your tailor-made training, your progression will be tracked until your goals are achieved. How long the entire process takes, depends entirely on you and can always be adjusted. We are happy to advise you on this.
Would you like to start working on yourself and receive professional guidance? Please do not hesitate to contact us. We are happy to schedule a free introductory meeting, without any obligations. This meeting will take place with Mike, owner of MIO personal training. We are looking forward to meeting you.
What do our customers say about us? Watch the video below.
Look here at the experiences of our customers.
WHAT OUR CUSTOMERS SAY
Always a friendly and a goog atmosphere.
Professional, effective and result-oriented.
Measurable and achievable goals.
Challenging sessions, but with a good laugh.
Trainers are committed and disciplined.
Fast and clear communication.
Mutual respect, without judgments.
Not fully convinced yet?
Read the reviews of our customers.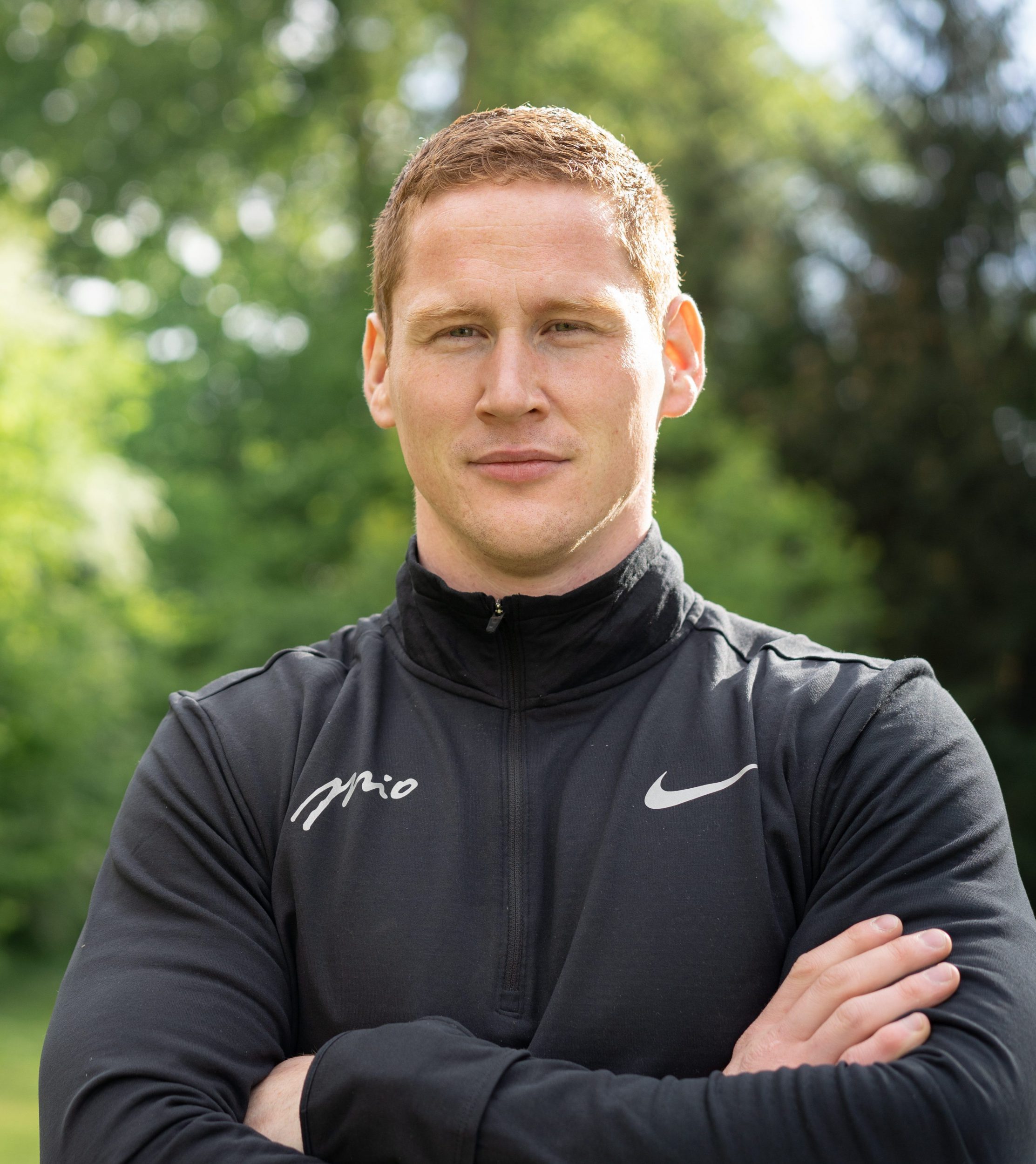 Mike Opheij
As a former Dutch Basketball League player, I know what it takes to achieve success. Commitment, having a clear goal in mind and the right people in your life, are important factors in achieving your goals.
After my top-level sports career, I decided to start coaching independently and proceeded to set up MIO personal training. I wanted to use my knowledge and experience to help and motivate other people on their fitness journey, at every level.
Over the years I've gained a lot of experience as a personal trainer and completed several certified courses, such as: NASM personal training, Fitness Trainer A, Mental Coaching, Lifestyle coach, Overload TOP trainer A, Mylogenics Release & Activation, Les Mills Grit, Sprint (spinning) and Box Kick.
I have experience in teaching group classes, supervising weight loss, building muscle mass, showing the right exercise techniques, mental health coaching and nutrition. In short, the complete package to provide you with the best possible guidance to achieve your goals.
Do you want to start working on not just your physical goals, but also your mental well-being? I would be happy to help. Do not hesitate to contact me.  Click on the WhatsApp button. "LIFE REWARDS ACTION".
PRICES
For more information about the various training options and costs: please contact us.
We are happy to discuss the options in a no-obligation telephone call or personal meeting.
OPENING HOURS
We work by appointment only and will try to accommodate your schedule as much as possible.
Our general working hours are between 06:00am and 22:00pm, Monday through Sunday.